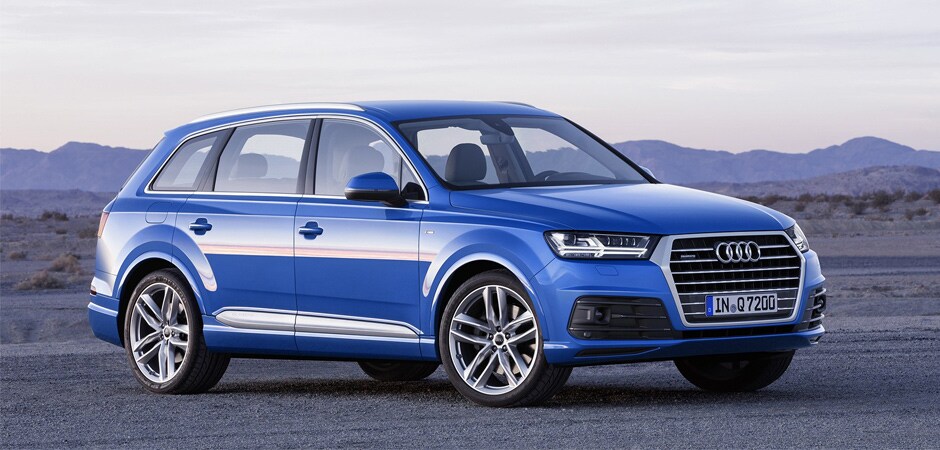 When working for an auto group as diverse as Weins Canada, there are a lot of opportunities to drive some nice cars. We have great luxury brands like Lexus, Audi, and Mercedes, and it seems like every model is designed to make you drool. Before this week, I actually hadn't driven any of our luxury brands, or really any luxury vehicle. When I was given the chance to drive the 2018 Audi Q7, I was both excited and nervous. On the one hand, it's the chance to drive a luxury SUV and feel what it's like to be a bit higher-class! On the other hand, it's driving a $100,000 vehicle and hoping that you don't scratch it...
The Audi Q7 has been in Audi's lineup since 2006 and was the first SUV offered by Audi, which inspired further Audi SUVs such as the Q3 and Q5. The Q7 is a 7-seat crossover SUV and the model I had, the Technik, had a 3.0L V6 engine. To say I was intimidated by this would be an understatement. It's a big, expensive vehicle that has a lot of power under the hood. But I still wanted to know what it was like to drive a luxury vehicle.
First Impressions
Sitting in the 2018 Q7 made me feel like I was sitting in a spaceship. The new Audi vehicles use a new gear lever system which is called a "drive by wire" system. Instead of the traditional PRNDL shifter, it now uses an RND/S shifter with a Park button. But it felt to me like the accelerator you see in the Batmobile, not a regular civilian vehicle.
Audi also has something called a "Virtual Cockpit." On the dashboard behind the steering wheel where you would normally find the speedometer and fuel gauge, the Q7 uses a fully digital dashboard that displays your GPS, speed, fuel levels, etc. It's customizable to show what you want and the size you want to see it. Again, it looks like something you see in a sci-fi show (would it be too cheesy to say "on screen"?).
Finally, the Q7 has a Head-Up Display that projects onto the windshield, showing information such as your speed and GPS directions. I heard about this feature before taking the vehicle out, and I was a little hesitant about using it. I thought having something digital projected onto the windshield would distract me and maybe get in the way of what I'm looking at. In fact, it was quite the opposite. Not only did it not obstruct my vision, I really liked having that information so much closer to my eyes.
The Drive
Despite the size of the Q7, it doesn't handle like a large vehicle. The cornering and maneuverability of the vehicle feel on par with any of the sedans I've driven. Since it's also a luxury vehicle, the seats are very comfortable. It has leather seats that have heated/ventilated options keep the chair extremely comfortable in summer heat or winter cold. Obviously, since I drove this in warmer weather, I had the ventilation on, which does make a huge difference in sitting on leather in the summer.
The one thing I was a little disappointed in was the pickup that the vehicle had. You would think that a 3.0L V6 engine would really fly when you hit the accelerator. Maybe the weight of the vehicle is too much for that engine, or perhaps it's designed that way for safety. Either way, it does take a bit of time to get up to speed. Not a big issue, but one that disappointed me a little bit.
The Negatives
I touched on the vehicle's acceleration being a bit lower than I wanted, so now let's take a quick look at other negatives I found in the Q7.
*crickets*
Yeah, that sounds about right.
I really didn't have any complaints about the vehicle other than the aforementioned acceleration. Crazy, huh?
Conclusion
The Q7 is a luxury SUV that really lives up to that term. Everything inside the vehicle just felt like it had been turned up to 11. Comfortable seats, responsive handling and sci-fi levels of technology made it feel like I was driving a car from the year 3018. With larger vehicles, it can often feel like you're driving a tank down the suburban streets that are like what we have in Oakville. With the Q7, I was never worried about how large I was driving down the road. I think I might enjoy driving luxury brands.